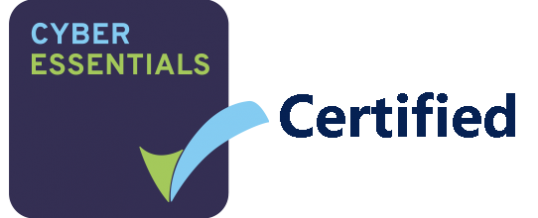 Cyber Essentials: How It Will Improve Your Business
Take your business' cyber security seriously with the government's Cyber Essentials scheme and you'll also improve your marketability in more ways than one.
The government's Cyber Essentials scheme was developed to tackle growing concern over SME's lack of basic cyber security. The scheme helps businesses learn to protect not just themselves but also their customer's accounts and data from common cyber attacks. According to the government, if all SMEs implemented the scheme's advice around 80% of cyber attacks could be prevented!
In 4 years over 9,000 businesses have received Cyber Essentials certification, which is a great step in the right direction, but we'd encourage more businesses to take advantage of the scheme.
As well as having the obvious benefit of putting your mind at rest that you've taken steps to protect customer data and prevent an expensive security breach, the government scheme can also have a surprisingly dramatic impact on your business' marketability.
Here are five ways in which becoming Cyber Essentials certified can open up new business opportunities by making your company a more attractive option to clients.
Professionalism: When choosing a business to work with one of the key factors that plays a part in who your customers choose is professionalism. Being able to display the Cyber Essentials certified badge on your website and marketing materials will reassure customers that you are a professional business. It can also help to make your business appear bigger and more established than perhaps it is.
Trust : If you've never worked with a business before, how do you know if you can trust them? When encountering your business for the first time, potential clients will be looking for proof that they can trust you. Taking part in the Cyber Essentials scheme gives customers assurance that you are committed to protecting their sensitive data.
Reputation : As cyber crime continues to grow as a threat, a breach in security spells the end for many businesses as it can leave their reputation in tatters and cause customers to jump ship due to a loss of trust. By investing in cyber security, you also invest in your business' reputation and longevity.
Competitive edge : Many businesses find that being Cyber Essentials certified gives them that little edge over their competitors. If you were trying to choose between two companies and one had invested in making their service secure and the other hadn't then it's a no-brainer who you'd go with.
Supply chain protection : If you work with a supply chain then the businesses in the chain need assurance that you are safe to do business with and will not cause any disruption to the chain. A business that is certified in cyber security is less of a risk to do business with than one that is not.
To discuss your business' cyber security requirements in more detail, get in touch on 0333 3207 335 or email info@webbytech.co.uk